Jan 09 2013
John: Who are Trails and Ways?
T&W: Four dreamers and schemers named Emma, Hannah, Ian, and Keith
John: You guys came out of nowhere. How did that happen?
T&W: I went backpacking in the cascades right as we released "Nunca" last summer, I came out, turned on my phone, and suddenly found out the band wasn't just a semi-secret little project anymore. so I missed some of the key details of how it all happened. but basically we just tried to make very good songs and send them with a friendly email to a slate of blogs and some of the radder blogs (LIKE WINNIE COOPER THANKS YALL) started putting us up.
John: Did you guys have any other projects before this?
T&W: Yeah. Hannah is an ultra-trained violinist and has played stringed instruments in dozens of bands around the bay. Ian was drumming basically fresh out of the womb and apparently banging for local punk and metal bands by middle school. Emma's portfolio includes lots of solo piano and guitar tunes, painting and architecture projects. Myself, I had teenage poetry and street art projects, and a acoustic guitar solo act whose name I will now never, ever reveal.
John: What influenced you to go for this sound?
T&W: This is a very wide open question but, some places to start: my dad's stack of 80s brazilian pop CDs and the Joao Gilberto songs that helped me learn portuguese in Brazil, Ian's obsession with Rihanna and Drake and top 40 production in general, the Radio Dept. and Miguel, Emma's year surfing and singing in rural spain, seeing tUnE-yArds and Dirty Projectors live, the time I listened to Loveless in a bath in the dark, Hannah's fast ear for slow groove, our friends in Bells Atlas and the Bilinda Butchers and Waterstrider and Astronauts Etc.
John: Are you aware of the people that love music?
T&W: I have no idea exactly what this question means. I will use powers from my 9th grade philosophy nerd summer camp to induce:
i. According to Sting: if you love somebody, set them free.
ii. I am aware that tUnE-yArDs set music free (for me).
iii. Ergo, I am aware that tUnE-yArDs loves music, and that Sting gave a really haunting performance in Dune.
When you think of TRAILS AND WAYS, you want something specific. Which is why I have to be so careful when I review the remixes done by these other Producers.
As a five-year music industry enthusiast (who's trying to exit the biz) I get what the remixes are for… and sure, I like them. But before I go on, I have to state my bias towards what I think the group brings to a brutally unoriginal genre of music. When the "interwebz" first heard TRAILS AND WAYS' initial release, we were all astounded; instantly in love.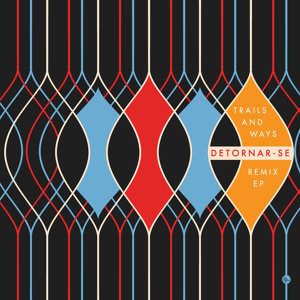 Their EP starts out with a politically chosen remix, of their track "Boarder Crosser", that most of us would be able to relate to. Something that just barely tells us it's a remix, and something that die-hard fans wouldn't immediately be turned off by. As you get further in, we're hit with some of their more popular tracks like "Tereza" and "Nunca". I would recommend checking out the Remix EP on their SoundCloud page –> here.
However, I would even more strongly recommend hearing their original stuff if you haven't already. As Thomas Bertram once said "if it ain't broke, don't fix it"… which is partly how I feel about the Remix EP. I'm confident I can speak for all of us (eat your heart out Mr. Flores) when I say that I can't wait for the next original release of the band.
Reviewed, interviewed by John